The digital age has fundamentally reshaped the business world, driving increasing demand for developers, engineers, and other skilled tech professionals. Companies across all industries are scrambling to find top talent to power up their digital transformation – a resource that grows scarcer by the day. The need to stay competitive, combined with the global shortage of tech talent, has companies rethinking their hiring strategies. One such approach that's gaining significant traction is hiring nearshore developers.
Nearshore development is shaping up to be a game-changer in helping businesses bridge technology gaps, accelerate growth, and access a more extensive pool of talent. Bloomberg found that 80% of North American companies are considering nearshore talent, and Clutch reports a 15% increase in nearshore hires by small businesses in 2022. It offers a compelling alternative to both local hiring and popular offshore destinations, yielding significant savings, superior team collaboration, and access to high-caliber talent. When it comes to hiring software developers, the focus seems to be shifting from "local or offshore" to "why not nearshore?"
At Zilker Partners, we specialize in connecting companies with the best tech talent, providing customized nearshore hiring solutions to elevate your business. But what exactly does it mean to hire nearshore developers, and why is it such a compelling proposition in the current market?
What Is Nearshore Development?
Before jumping into the hiring process, let's dive deeper into the concept of nearshore development. Nearshore software development is an outsourcing model where a company hires developers from geographically closer countries. This strategy has become increasingly popular in the tech industry, making it possible for businesses to access expert tech talent without compromising on project quality or dealing with the often higher cost of onshore talent acquisition.
The key here is geographical proximity, which usually means similar time zones and easier communication. Nearshore location is often considered the second-best option after onshoring, offering the same quality of tech experts while being more cost-effective.
Difference Between Nearshore, Offshore, and Onshore Hiring
Nearshore, offshore, and onshore hiring differ in multiple ways. Offshore development refers to outsourcing to a country that is geographically far away, often with a significant time difference. On the other hand, onshore development involves hiring a team within your own country.
Nearshore development, as we've mentioned, is a middle ground that combines the advantages of both. It allows you to work with a team in a neighboring country, which is a short distance away and often in a similar time zone. This aspect makes collaboration easier and more efficient, making nearshore development a preferable option for many companies.
The Rise of Nearshore Development in Latin America
An excellent example of a thriving nearshore destination is Latin America. The region has seen a significant rise in nearshore development due to its lower labor costs compared to countries like the United States, and a growing pool of skilled developers. According to a Pentalog report, Mexico ranks second globally for the best developers in terms of tech skills in 2022.
Additionally, the time zone alignment with North America makes communication seamless, leading to faster feedback, improved collaboration and project turnaround time, and accelerated time to market.
The Cost of Hiring Nearshore Developers
Understanding the cost structure of nearshore developers is crucial in making an informed decision. Let's delve into the financial aspects of hiring nearshore developers.
Overview of the Hourly Rates for Nearshore Developers
When it comes to nearshore development, the hourly rates are dependent on the level of expertise required for your project. For instance, mid-level nearshore software developers typically charge around $50 an hour. As the complexity of the project increases and the level of expertise required rises, the hourly rate also goes up. You can expect more senior nearshore software developers to charge approximately $60 an hour, and for top-tier architects, the rate could go up to $70 an hour.
However, it's important to note that these are average rates and the actual cost may vary based on the specific needs and requirements of your project.
Comparison of Costs Between Nearshore and Offshore Development
The hourly rate for offshore developers will typically be less than both onshore and nearshore talent, with offshore developer rates starting at around $30 per hour and onshore at approximately $120 per hour.
When comparing the cost of nearshore and offshore development, it's important to consider more than just the hourly rates. While offshore developers may offer lower rates, there are other potential costs to consider, such as communication barriers, time zone differences, and cultural differences, which can lead to project delays and increased costs in the long run.
On the other hand, nearshore developers, while having slightly higher rates, offer the advantage of similar time zones and cultural similarities. This makes communication smoother, leading to faster project turnaround times and ultimately a more cost-effective project management.
How Outsourcing to Nearshore Developers Can Be Cost-Effective
Outsourcing your project to a nearshore development team can be a savvy business move. Nearshore outsourcing allows you to access a larger talent pool without the high overhead costs associated with hiring full-time, in-house employees. It also saves you from hefty recruitment costs, such as job advertisements, recruitment agency fees, and the time spent on interviewing candidates and conducting trials.
Furthermore, nearshore outsourcing allows you to scale your team size based on project requirements, providing you with the flexibility to manage your resources more effectively and keep your costs low.
Top Benefits of Hiring Nearshore Developers
In the ever-evolving tech world, it's crucial to have a reliable and talented software development team. But, finding the right talent isn't always easy or affordable. That's where nearshore development comes into play. Here are the top benefits when you hire nearshore developers.
Access to Skilled and Experienced Developers
When you go nearshore, you tap into a vast pool of highly skilled and experienced developers. Latin American countries, in particular, have been making waves in the tech industry, with countries like Brazil, Argentina, Mexico, and Colombia reputed for high-quality coding. As a result, you get a team that can understand your project requirements and deliver quality work. This, in turn, accelerates your project turnaround time and time to market, a crucial aspect for any business in the fast-paced digital world.
Time Zone Alignment for Smoother Collaboration
One of the biggest challenges with offshore development is the time zone difference. Nearshore development, however, offers a solution. Because nearshore developers are in close geographical proximity, they share similar time zones. This enables real-time communication, faster feedback and improved collaboration with your in-house team, leading to more efficient project management.
Cultural Similarities and Language Proficiency
Cultural and language barriers can often lead to miscommunication in offshore development. Nearshore developers, on the other hand, share similar cultures, languages and business practices. This makes it easier to understand instructions, subtle cues, and work ethics, minimizing the risks of miscommunication. In fact, most Latin American countries prioritize English language education, with Argentina ranking 30 among 111 countries on the English Proficiency Index in 2022.
Scalability and Flexibility in Project Management
Nearshoring offers the flexibility to scale your software development team up or down quickly. This allows you to adapt your development process to changing project deliverables and market demands. Nearshore developers often require minimal training or onboarding time, as their experience with similar projects helps them jump right in.
Enhanced Data Protection and IP Security
In an era where data breaches are rampant, data protection and IP security are essential. Nearshore countries often have similar legal frameworks and compliance policies, mitigating the risks and complexities associated with outsourcing. Plus, some nearshore countries under trade agreements, like the USMCA, have special provisions for intellectual property protection.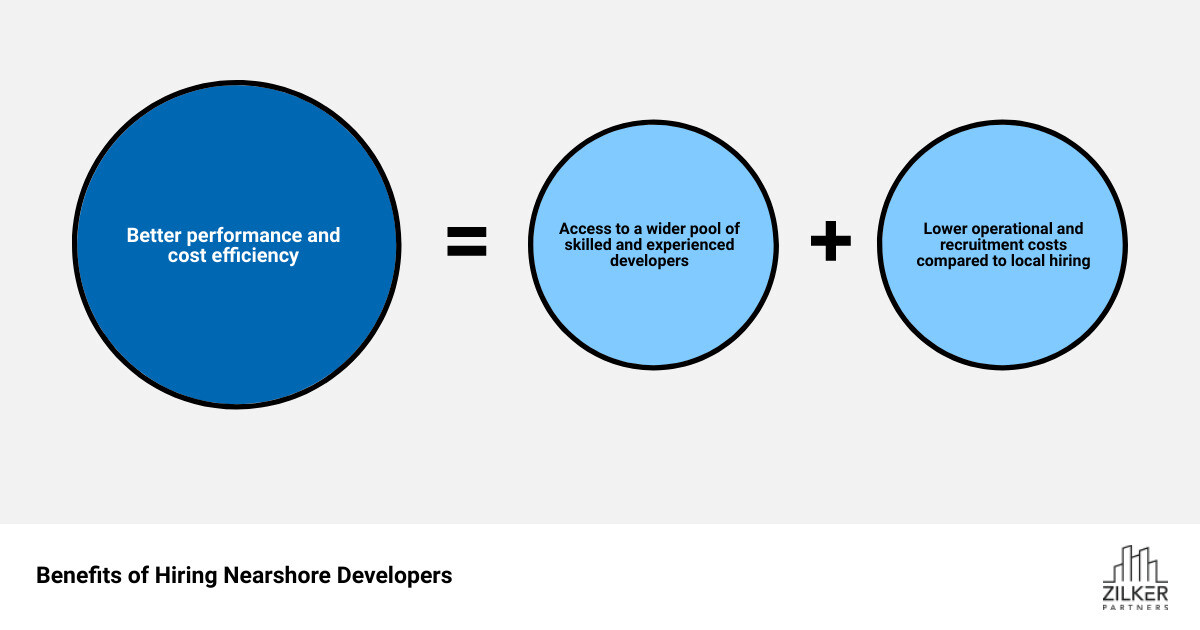 Hiring nearshore developers offers numerous benefits. However, it's important to choose a reliable nearshore partner to fully leverage these advantages. In the next section, we'll guide you on how to identify credible nearshore software development companies. Stay tuned!
Choosing the Right Nearshore Development Partner
When it comes to hiring nearshore developers, it's not just about finding the right talent. You also need to partner with the right nearshore software development company. Here are some pointers to help you in your selection process.
Importance of Company Background and Reputation
Before diving into a partnership, it's crucial to investigate the company's background and reputation. Look at how long they've been in business and their track record specifically in software development. Check for relevant certifications, such as Microsoft Certified Solutions Expert, which can add credibility to their software development services. Review their past clients' feedback and check reviews on trusted platforms like Clutch to validate their services.
Evaluating Technical Expertise and Range of Services
Next, assess the company's technical expertise and the range of services they offer. Ensure their technology stack, infrastructure, and nearshore outsourcing services align with your project requirements. At Zilker Partners, for instance, we embrace new technologies and excel in creative problem-solving.
Importance of Security and Confidentiality Protocols
Data security is paramount, especially when you're outsourcing software development. Different nearshore countries have varied data security laws. For instance, Argentine data security law requires companies to have a Data Protection Officer under certain circumstances. It's important to ensure that the company you choose follows strict data security measures, like encryption techniques, and complies with international security standards like ISO 27000 Series. They should also be willing to sign necessary non-disclosure agreements to prevent data breaches.
Understanding Pricing Models and Communication Processes
Lastly, ensure that the company fits within your budget. Be aware of hidden costs and unexpected charges. Opt for a company that offers flexible pricing structures and contract terms to support potential scalability. Effective communication is key to a successful software development project. Look at the type of communication channels the company uses (like email or a messaging app like Slack), and make sure you agree on project deadlines and schedules.
Choosing the right nearshore recruiting partner can be transformative in building your development team to stay competitive, adaptive and sustainable. Our talent experts at Zilker Partners are always ready to guide you through this process and help you find the best nearshore developers.
How Zilker Partners Can Help You Hire Nearshore Developers
Zilker Partners understands the challenges that come with hiring and managing a tech team, especially when it involves crossing borders. That's why we offer comprehensive services designed to alleviate these challenges and help you get the most out of nearshore development.
Introduction to Zilker Partners and Our Services
At Zilker Partners, we are more than just a staffing agency. We are a full-service tech and digital consulting firm with a deep understanding of the IT and digital landscape. Our services range from tech and digital recruiting to project delivery and digital marketing services. We pride ourselves on our ability to connect growing businesses with top-tier talent, both locally and internationally. Our vast network includes highly skilled nearshore developers from Latin America who are experts in a variety of tech stacks, including AWS, New Relic, Redis, and .Net, among others.
These developers have been thoroughly vetted and qualified by us before we recommend them, ensuring that you only interact with the best of the best. We handle the legwork of recruiting and onboarding, so you can focus on leading your project to success.
Zilker Partners' Unique Approach to Filling Talent Gaps and Aiding Growth
What sets us apart is our commitment to your long-term growth. We don't just fill immediate vacancies; we aim to become an integral part of your team, identifying opportunities for growth, and filling talent gaps to sustain your momentum.
We leverage our unique Service Delivery Approach (SDA) to ensure seamless onboarding, integration, and communication with your nearshore team. Whether you need to expand your team through staff augmentation or require a dedicated team to integrate with your existing developers, we have the flexibility to meet your needs.
Furthermore, we adhere to agile principles and practices, providing flexible and scalable solutions that adapt to your changing business objectives. We emphasize continuous collaboration, project management, and quality control for a smooth development process
Get Who You Need, When You Need Them
As we move forward, the demand for software developers is only expected to grow. Nearshore development offers a viable strategy to meet this demand, providing access to a larger, more diverse talent pool.
At Zilker Partners, we understand the value that nearshore development brings to the table. We are committed to helping you navigate the nearshore hiring process, ensuring that you get the best talent to drive your projects forward.
Hiring nearshore developers can be a savvy business decision that allows you to stay competitive in a rapidly evolving tech landscape. Cost savings is an obvious benefit, but there are others that add up big, such as tapping into global talent, streamlining processes, and driving innovation.
Are you ready to reap the benefits of nearshore development? Get in touch with us today and let's start the journey together!